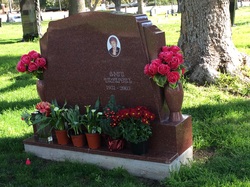 R.M.K. Exports offers a full range of rough dimensional block, polished granite slabs, calibrated tiles, quality Monuments, kitchen counter tops and various other Granite and Marble products.
Crafted from the finest stone and shaped into elegant designs, our monuments can be custom lettered and engraved so that each life will be remembered for generations. Our experience and expertise in the field has driven us to explore innovative designs on the plentiful stone called "Granite"
We have the equipment, personnel and experience to customize according to your stone manufacturing needs.
Presently, we export to USA and European countries at large.
R.M.K. GROUP
R.M.K. Exports is part of the R.M.K. Group of institutions which has over a decade of experience in the field of education. The centres of excellence created by the management stand as a testimony to their commitment to quality and excellence. We have grown from the humble beginning with 300 students in R.M.K. Engineering college and, today almost 10000 students pass through all the seven educational institutions of the group, every year.
Our institutions are ISO 9001:2000 certified and accredited by the respective bodies. The reputation of the group has created a demand amongst the present day students, and an ambition to be part of the learning process.
R.M.K. Group consists of
R.M.K. Engineering College
R.M.D. Engineering College
R.M.K. College of Engineering & Technology
Sri Durga Devi Polytechnic College
R.M.K Matriculation School
R.M.K. Residential School
R.M.K. Senior Secondary School
Kranium Healthcare Solutions Pvt Ltd
RMK Constructions and Housing
---