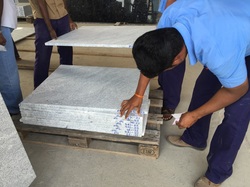 We believe that Quality is never an accident; it is always the result of high intention, sincere effort, intelligent direction and skillful execution. This belief has been our stepping stone to success. A keen eye of inspection hovers around our process to ensure perfection in choice of raw materials, planning the design, executing the plans and ensuring customer satisfaction.

The skilled workforce at our plants take care of the processing activity, so that quality is maintained right from the beginning to the end.

We have constantly endeavoured to achieve the highest standards in export quality. Great emphasis is laid on customer satisfaction. Our inspection team is highly experienced and is constantly at work right through rough block selection, processing, final inspection and shipping. Customers can at any time view Work in Progress, and any queries are responded to immediately.

---
RAW MATERIAL

Selection of raw materials is done by our highly qualified & trained geologists who have expert knowledge of quarries and stones. This accurate identification of raw materials is the backbone of our quality. Human innovation is matched with imported equipments to bring out the best from our quarries.

To ensure productivity round the year and meet deadlines despite natural hazards, we have invested sufficiently in raw materials.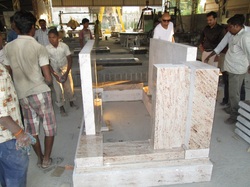 TEAM

The excellent craftsmanship seen in our products is the hardwork of a team of well trained and skilled workforce. Their skilled handicraft and knowledge of imported equipments adds life to stone. Our dedicated core team collectively has 100 man years of experience in sourcing, manufacturing and trading in this industry.

---
Designs
Our design team works on CAD and Inventor software to create the precise drawings as per customer's specifications. It then ensures the required templates are made for production.